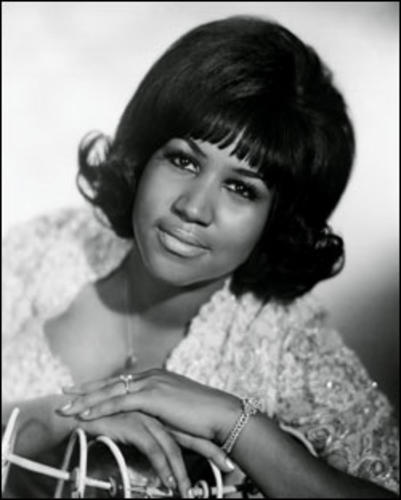 Aretha Franklin
(1942- )
Background and Early Years
Aretha Louise Franklin was born March 25, 1942, and is an American singer, songwriter and pianist. She has been called "The Queen of Soul" for many years, but many also call her "Sister Ree." She is renowned for her soul recordings, but is also adept at jazz, rock, blues, pop, gospel and even opera. She is widely acclaimed for her passionate, soulful vocal style, which is aided by a massive and powerful vocal range. Franklin's voice is often considered unparalleled and she's widely respected the world over.
Franklin was born in Memphis, Tenn., to Rev. C. L. Franklin, a Baptist minister, and Barbara Siggers; she was the fourth of five siblings. Aretha's parents had a troubled relationship and they separated when Aretha was six, and Barbara died of a heart attack when Franklin was only 10. Aretha's father's first pulpit after Memphis was in Buffalo, N.Y. The family subsequently moved to Detroit where C. L. was Reverend of the New Bethel Baptist Church, and became a legend nationally as a preacher. Adept at the piano, as well as having a gifted voice, Franklin became a child prodigy. By the age of 14, she was given a record deal with Checker Records, where her father recorded his sermons and gospel vocal recordings and issued "The Gospel Soul of Aretha Franklin" in 1956. Her early influences included Clara Ward and Mahalia Jackson, both of whom spent a lot of time in Aretha's home.
The Queen of Soul Debuts
Teenage pregnancies derailed Franklin's gospel career when she gave birth to the first and second of her four sons in 1955 and 1957. By the time she returned to singing, instead of performing gospel, and inspired by the successes of idols, Dinah Washington and Sam Cooke, Aretha decided to secure herself a deal as a pop artist. After being offered contracts from Motown and RCA, Franklin signed with Columbia Records in 1960. Her recordings during that time reflected a jazz influence inspired by Washington and hardly reflected on her gospel roots. Franklin initially scored a few hits on Columbia including her version of "Rock-A-Bye Your Baby (With A Dixie Melody," which peaked at No. 37 on the Billboard Pop Singles chart in 1961, and the Top 10 R&B hits, "Today I Sing The Blues," "Won't Be Long," and "Operation Heartbreak." However, by the end of 1966, with little commercial success obtained during six years on Columbia and desperate for a sound, she accepted an offer to sign with Atlantic Records. According to Franklin years later, "they made me sit down on the piano and the hits came."
In 1967, Franklin issued her first Atlantic single: "I Never Loved A Man (The Way I Love You)," a bluesy ballad that introduced listeners to Franklin's gospel-throated vocals. Produced by Jerry Wexler, the song became Franklin's breakthrough single, hitting the Top 10 on the Hot 100 and holding the No. 1 spot for an amazing seven weeks on Billboard's R&B Singles chart. The B-side to the single, "Do Right Woman, Do Right Man," introduced more of a gospel element to Franklin's developing sound and charted well on the R&B side.
But it was her next single, "Respect," firmly launched Franklin to super-stardom. Written and originally recorded by Otis Redding, Franklin's feminist version of the song became a monster hit reaching #1 on both the R&B and the pop charts and helped her Atlantic debut album, "I Never Loved A Man The Way I Love You," reach million-seller status. For the next 10 months, Franklin issued top ten hits such as "Baby I Love You", "Chain Of Fools" and "(You Make Me Feel Like) A Natural Woman." In early 1968, she won her first two Grammies for "Respect," including the first Grammy given to an artist in the Grammy Award for Best Female R&B Vocal Performance category. Because of this, Franklin would automatically be a winner of eight Best R&B Female Vocal Performance categories in a row before Natalie Cole broke the streak with her single, "This Will Be (An Everlasting Love)," which ironically was originally given to Franklin, but she passed on it.
Disco Fever Takes Over
Throughout the next seven years, Franklin continued to score hit singles including "Think," "The House That Jack Built," "I Say A Little Prayer," (a cover of Dionne Warwick's hit), "Call Me," "Don't Play That Song For Me," and "Spanish Harlem," (a cover of Ben E. King's 1960 hit), which reached No. 2 on Billboard's Hot 100 and even gave Aretha her first Top 10 Adult Contemporary (at the time labeled Easy Listening) hit. By the end of the 1960s, Franklin's stance as "The Queen of Soul" was firmly stamped. Her albums were also hot sellers. One in particular, 1972's Amazing Grace, eventually sold over two million copies in the U.S., becoming the best-selling gospel album of all time. Franklin's hit streak continued into the mid-1970s. 1973's emotional plea "Angel," produced by Quincy Jones and written by Franklin's sister, Carolyn, was a stand out single that became yet another No. 1 on the R&B chart. The subsequent album; however, "Hey Now Hey (The Other Side of the Sky)" was an artistic and commercial disaster. In 1974's gold-certified single, "Until You Come Back to Me (That's What I'm Gonna Do)" hit No. 1 R&B and No. 3 on the Billboard Hot 100. By 1975, however, with the expanding exposure of Disco and the popularity of fellow Atlantic Records artist Roberta Flack, relations between Franklin and Atlantic started to strain. As a result, Franklin was recording poor material such as 1975's listless "You" album and her record sales declined dramatically. Franklin had peaked while the music industry was moving on to younger Black female singers such as Natalie Cole, Chaka Khan and Donna Summer.
In 1976, Franklin's Curtis Mayfield-produced soundtrack of the film, Sparkle, briefly brought Franklin out of her funk. It was her first album to reach Gold status since the landmark "Amazing Grace" album. The suggestive, "(Giving Him) Something He Can Feel" became a number-one R&B smash and reached No. 28 on the Pop side. However, it was Aretha's only Pop Top 40 appearance during the second half of the 1970s. Her later period Atlantic albums including "Sweet Passion," "Almighty Fire" and "La Diva" were critical as well as sales failures and to top it off, Franklin owed major debts to the IRS for failure to pay back taxes. Her recording contract with Atlantic ran out at the end of 1979 and neither Aretha nor the company had any desire to renew it. On June 10, 1979, Franklin's father, C.L., was seriously injured after what was said to be an attempted robbery at his home in Detroit, leaving him in a comatose state in which he remained until his death in the summer of 1984.
The Peak After The Valley
In 1980, Franklin's career was given a much-needed boost thanks to a cameo appearance on The Blues Brothers, singing "Think," as Mrs. Matt Murphy. That same year, Clive Davis signed Aretha to his Arista Records. While songs like "United Together" and "Love All The Hurt Away" - a duet with George Benson - returned her to the Top 10 on the Billboard R&B charts, it wouldn't be until her 1982 release, Jump To It, produced by longtime admirer Luther Vandross, that the album's title track would give the Queen Of Soul her first R&B chart-topper and pop success since "(Giving Him) Something He Can Feel." The "Jump To It" album enjoyed a long run at No. 1 on Billboard's R&B Albums chart. It won an American Music Award, was nominated for a Grammy and was certified gold in early 1983. That was Franklin's first gold disc since the 1976 Sparkle album.
The following year Franklin and Vandross collaborated again on the disappointing album "Get It Right." But in 1985, Franklin's sound was commercialized into a glossy pop sound as she experienced her first-ever platinum-certified album, "Who's Zoomin' Who?" Yielding smash hits like the Motown-influenced "Freeway of Love," the title track and her duet with rock band The Eurythmics: "Sisters Are Doing It For Themselves," the album became the first platinum certification of Franklin's entire career, reintroducing her sound to a younger generation of fans. In 1986, Franklin did nearly as well with an album simply titled "Aretha," which yielded her first No. 1 pop single in two decades. It has a George Michael duet, "I Knew You Were Waiting (For Me)," and the album was noteworthy for the striking cover that was a print of Andy Warhol's last work. Some of her other hits included her cover of The Rolling Stones' song, "Jumpin' Jack Flash," and the girl group-inspired song "Jimmy Lee." When "Aretha" was taken out of print, it had sold over nine million copies.
Returning to Her Roots
Franklin returned to the gospel world in 1987 with her album "One Lord, One Faith, One Baptism" which was recorded live at her New Bethel Baptist Church in Detroit. However, the disc was a far cry from her 1972 gospel effort and had middling sales. Subsequent follow-ups such as 1989's "Through The Storm" and 1991's "What You See Is What You Sweat" sold poorly and failed to produce any major mainstream hits other than the title track Elton John duet. But her career got a slight boost in 1993 when she scored a dance-club hit with "Deeper Love," off the Sister Act 2: Back In The Habit soundtrack. In 1994, she scored another R&B and Pop hit with the Babyface-produced ballad, "Willing To Forgive."
However, Franklin truly returned to prominence with the release of her 1998 album, A Rose Is Still A Rose. The album's mixture of Urban Contemporary, Hip-Hop and Classic Soul was a departure from Franklin's previous material. The title track, produced by Lauryn Hill, gave her a smash hit on the R&B and Pop charts and earned a Gold single while also returning Franklin to gold-album status for the first time since the 1986 Aretha release. That same year, she pulled out one of the greatest musical performances ever televised when she subbed for Luciano Pavarotti to sing "Nessun Dorma." Pavarotti, who was awarded a Lifetime Achievement Award that night was too sick to attend. She gave a soulful and highly improvised performance in the aria's original key, while firmly stamping out the year with a captivating performance during VH-1's "Divas Live" telecast concert.
Following the success of "A Rose Is Still A Rose," Franklin has continued recording if only sporadically. Her most recent release was 2003's "So Damn Happy," which included the Grammy-winning track "Wonderful." Shortly after its release, Franklin left Arista Records after 23 years with the company. She has since started her own label, Aretha Records, and plans to issue her long-promised new album, "A Woman Falling Out Of Love" in 2008. She is also coaching young actors during auditions for a musical based on her autobiography, From These Roots. In 1998, Franklin again took her role as Mrs. Murphy in the movie Blues Brothers 2000, this time singing her old hit "Respect."
Franklin has released a new album "Jewels In The Crown: All-Star Duets With The Queen." The disc features duets performed with Whitney Houston, Luther Vandross, Richard Marx, John Legend, Annie Lennox, Mary J. Blige, Frank Sinatra, George Michael, Christina Aguilera, George Benson, Fantasia, Gloria Estefan and Mariah Carey. A duet with Faith Hill has been recorded but it's not on the album. The album includes two new recordings with Fantasia, on the lead single "Put You Up On Game" and with John Legend. The lead single hit radio on October 1, 2007, and became the number one most added song on Urban AC radio the following week. The album also includes Aretha's historical rendition of "Nessun Dorma" from the 1998 Grammy telecast. The album was released November 13, 2007, on Arista Records. On February 8, 2008, Franklin will be honored as MusiCares Person of the Year, two days prior to the 50th Annual Grammy Awards.
Success and Respect
Franklin is the second most honored female singer in Grammy history after Alison Krauss. Ms. Franklin has won seventeen competitive Grammy Awards. Franklin has also been awarded the Living Legend Grammy and the Lifetime Achievement Grammy as well. She won an unprecedented eight consecutive trophies between 1968 and 1975, during which time the category of Best Female R&B Vocal Performance, was nicknamed "The Aretha Award."
Franklin has had a total of 18 No. 1 R&B singles —a record unsurpassed by any other female recording act —and a total of 17 Top 10 singles on the Billboard Hot 100. Two of them became No. 1 hit songs on the Billboard Hot 100 as well, "Respect" in the 1960s and her 1980s duet with George Michael, "I Knew You Were Waiting (For Me)." She is one of only three musicians (the others being Madonna and Marvin Gaye) who have placed a single on every charted position of the Billboard Top 10 pop singles chart.
Awards and Honors

Sources: Dobkin, Matt. I Never Loved a Man the Way I Loved You: Aretha Franklin, Respect, and the Making of a Soul Music Masterpiece. New York: St. Martin's Press, p 221, 2004; "The Immortals: The First Fifty." Rolling Stone Issue 946; wikipedia.org










In May 1987, she was awarded an honorary "Doctor of Musicology" degree from the University of Detroit.













In 2004,

Rolling Stone Magazine

ranked her No. 9 on their list of the

100 Greatest Artists of All Time

. To give perspective to this honor, only

the Beatles

,

Bob Dylan

,

Elvis Presley

,

the Rolling Stones

,

Chuck Berry

,

Jimi Hendrix

,

James Brown

, and

Little Richard

finished ahead of her on this list.

Ray Charles

finished at number ten, right behind Franklin.













In 2005, she became the second woman (Madonna being the first, a founding member) to be inducted into the

UK Music Hall of Fame

.













On May 14, 2007, she was presented with an honorary Doctor of Music degree from the University of Pennsylvania.


















First Black woman to appear on the cover of

Time

magazine.


Grammy Awards




Franklin has won nineteen Grammy Awards in total during her nearly half-century long career (she first charted in 1961), and currently holds the record for most Best Female R&B Vocal Performance wins with eleven to her name (including eight consecutive awards from 1968 to 1975 - the first eight ever awarded in that category). On February 8, 2008 Franklin will be honored as MusiCares Person of the Year 2 days prior to the 50th Annual Grammy Awards.




1967 I Never Loved A Man (The Way I Love You)




1967 Aretha Arrives




1968 Lady Soul




1968 Aretha Now




1969 Soul '69




1970 This Girl's In Love With You




1971 Aretha Live At Fillmore West




1971 Young, Gifted And Black




1972 Amazing Grace




1973 Hey Now Hey (The Other Side Of The Sky)




1974 Let Me In Your Life




1974 With Everything I Feel In Me




1975 You




1976 Sparkle




1977 Sweet Passion




1978 Almighty Fire




1979 La Diva




1980 Aretha




1981 Love All The Hurt Away




1982 Jump To It




1983 Get It Right'




1985 Who's Zoomin' Who?




1986 Aretha




1987 One Lord, One Faith, One Baptism




1989 Through The Storm




1991 What You See Is What You Sweat




1994 Greatest Hits 1980-1994




1998 A Rose Is Still A Rose




2003 So Damn Happy




2007 Jewels In The Crown: All-Star Duets With The Queen









The Blues Brothers (1980)




Blues Brothers 2000 (1998)




DIVAS LIVE (1998)




Immaculate Funk (2000) (documentary)




Rhythm, Love and Soul (2002)




Tom Dowd & the Language of Music (2003) (documentary)




Singing in the Shadow: The Children of Rock Royalty (2003) (documentary)




From The Heart / The Four Tops 50th Anniversary and Celebration (2004)




Atlantic Records: The House that Ahmet Built (2007) (documentary)




Top Hits















Posted By: Admin Administrator
Tuesday, January 22nd 2008 at 11:36AM