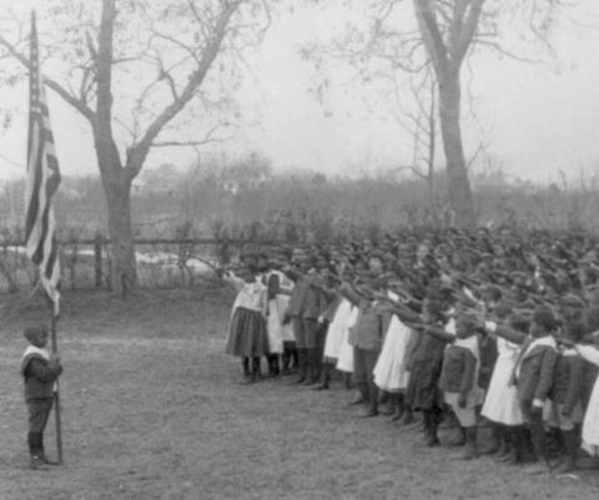 The picture was taken in 1899 or 1900, just as the full force of segregation was tightening itself around the necks of African Americans – sometimes in a literal way.
Yet, these children – or their parents or teachers – still saw fit to salute the flag. But then, that flag might have freed those children's grandparents, or even their parents. So the flag was still something to respect, perhaps even without a sense of irony.
The Back Story...
The pledge of allegiance was originally written in 1892 by Francis Bellamy, a socialist magazine writer. When he wrote it for an children's magazine, he also described a salute that he thought would be appropriate during its recital.
The pledge was aimed towards children, and the magazine also gave free flags away to schools, where the pledge was originally recited. The salute they were taught to give, with one stiff arm outstretched toward the flag, was deemed the "Bellamy salute" after its creator (who had gotten the idea from a salute that the Romans had done).
The photo: The Bellamy Salute, before WWII In the early 1940s, it was noticed that the salute bore a resemblance to The Nazi Party being used in Germany at the time . As a result, it was formally replaced by Congress with the now-customary hand-on-heart during the pledge.
Posted By: Reginald Culpepper
Wednesday, April 17th 2013 at 4:02PM
You can also
click here to view all posts by this author...